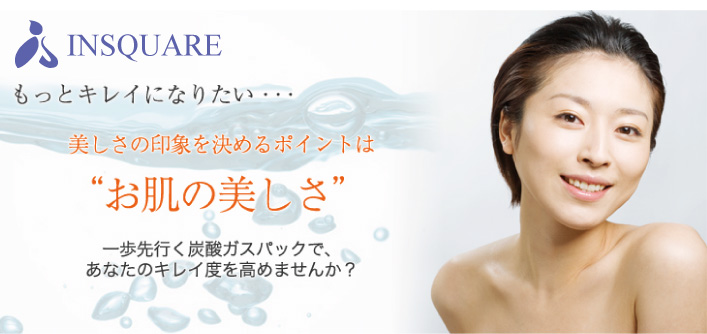 INSQUERE Series
Insquare series is brougt by a middle-sized maker company, that hit a Japanese market with it`s mixing pack technology. It is considered one of the best CO2 pack solutions for personal and professional use. In INSQUARE series there are many more outstanding products such as Active Skin Gel, Active Massage Cream, Mild Washing Foam, Aqua Moist Lotion. Please, feel free to contact us for a detailed description.
---
Main Products
"INSQUERE CO2 Mixing Pack" 10 sets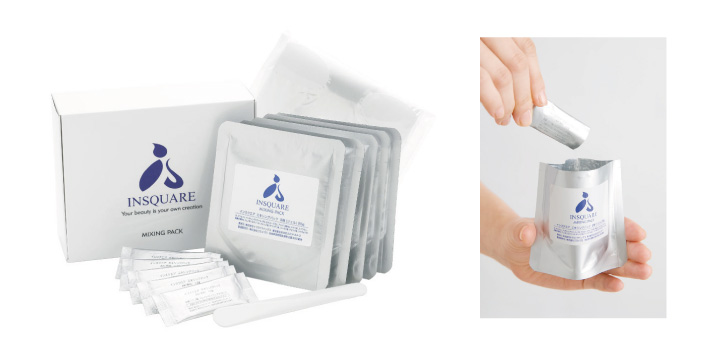 Purpose of use:
A revolutionary discovery - INSQUARE Mixing Pack - is a carbon dioxide mask-pack, where CO2 is generated inside a gel base and effectively absorbed by the skin. For ultimate skincare! INSQUARE Mixing Pack can be used extensively right from the first stage. As it begins to work inside the skin, cells are revitalized and maximizes metabolism, so new skin cells can be generated.
hrough regular use, the skin will be reborn, will be bright, clear and looking young. There is one more additional benefit of increased cellular activity - burn of excess fat, reducing flabby skin around eyes and improving tone and sharpness in the face line.
How it works:
Mixing granule A and gel base B creates carbon dioxide pack. The Drug Delivery System (DDS) enables skin to effectively absorb the carbon dioxide, maximizing cellular metabolism.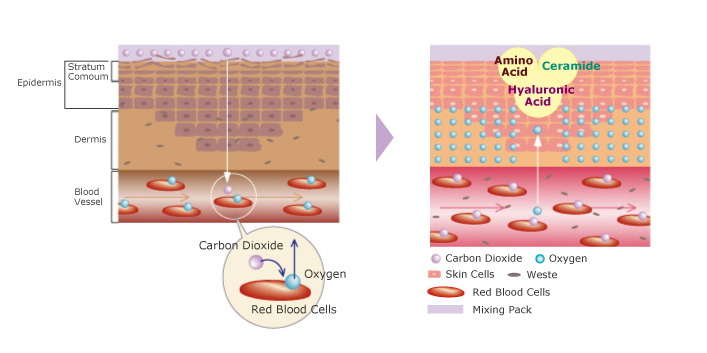 ・Blood stream gets better and you could feel your skin gets warmer
・Increased amount of protein such as collagen. Takes immediate effect
・Excess fat burning
・Swelling improvement, waste burning
Carbon Dioxide Metabolism Mechanism
Carbon dioxide delivered through blood vessels is absorbed by erythrocytes and exchanged with oxygen in the hemoglobin. Oxygen forced out from the hemoglobin and absorbed by skin cells from the blood vessels. Carbon dioxide is discharged primarily from the lungs. The process activates metabolism.
Granule A: LACTOSE, MALIC ACID, SOLANUM TUBEROSUM (POTATO) STARCH, DEXTRIN
Gel Base B: WATER, GLYCERIN, PENTYLENE GLYCOL, BG, CELLULOSE GUM, ALGIN, SIMMONDSIA CHINENSIS (JOJOBA) SEED OIL, SQUALANE, SODIUM BICARBONATE,PHENOXYETHANOL, ORANGE OIL, LAVANDULA ANGUSTIFOLIA (LAVENDER) OIL, EUCALYPTUS GLOBULUS OIL, EUGENIA CARYOPHYLLUS (CLOVE) OIL, FOENICULUM VULGARE (FENNEL) OIL.
Package:
Component A : 1.2 g x 10 packages
Component B : 25g X 10 packages,
10 face sheets, 1 spatula, 1 puff
Retail Price: \ 19440 JPY
Minimum order of Insquare series is \400,000 (negotiable). We can handle FOB, and are able to provide any certificates needed.