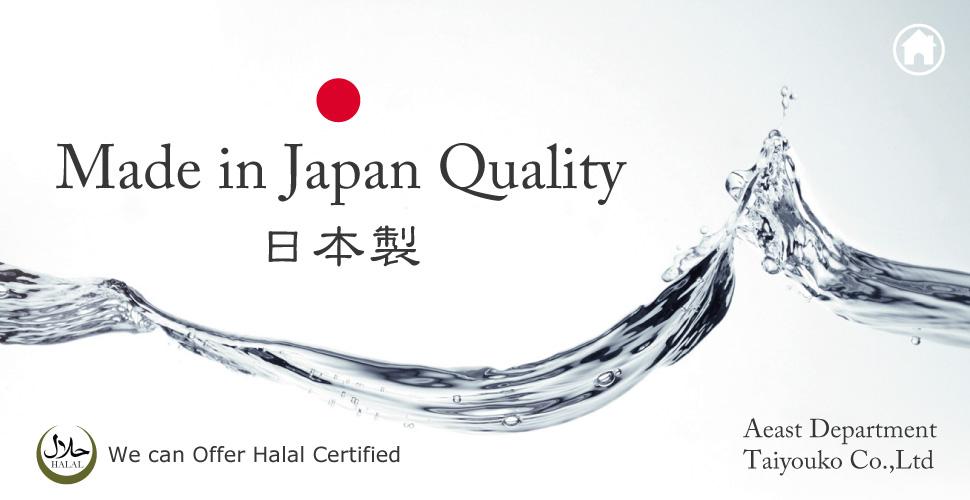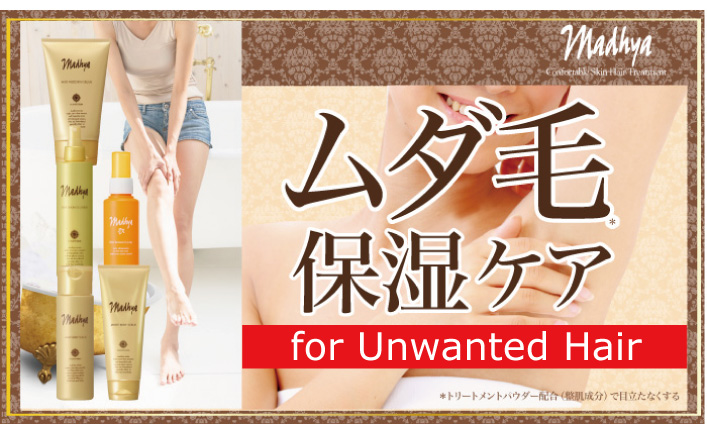 KITAO Madhya Series
This Osaka-based maker Kitao delivers, perhaps, the most amazing Japanese cosmetic series.
Kitao Keshouhinbu Co., LTD. was founded in 1919, has a long successful history of designing and producing goods for Japanese cosmetics and makeup market.
Madhya line is an outstanding series focused on face and body hair care.
The series helps to support a beautiful body and face with no unwanted hair, moistured and refreshed.
Fragrance and color free (most of products), carefully selected plant extracts formulae, non-sticky substances gives a better, smooth skin after-care.
Products can be used for any kind of hair on the body. Can be used after bathing. No need to rinse.
---
Products
1."Body Essence EX Madhya" 150ml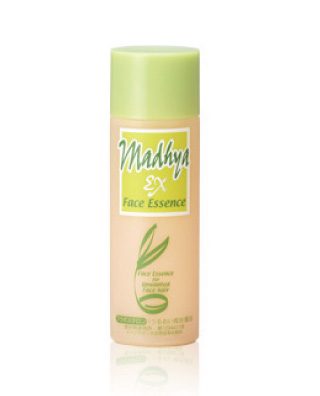 Purpose of use:
Removal of unwanted hair throughout the body. Moisturizing skin
How to use:
Apply to body parts, such as arms, legs, for hair removal. 1-2 times a day, better use after taking a bath.
You do not need to rinse.
Ingredients:
Water, Ethanol, Glycerin, Laureth-5, Carbomer, Methylparaben, Tea, Cyclomethicon, Licorice extract, Lavender oil, Hinokitiol, Nylon, Allantoin, Citrus unshiu peel, Turmeric extract, Soybean extract, Scutellaria root extract, Hops extract, Arrowroot extract, Arnica flower extract, Lamium album extract, Watercress extract, Soapwort extract, Hedera helix extract, Garlic extract, Pine extract, Rosemary extract, Roman chamomile extract
Retail Price: \ 1404 JPY
FOB Price: upon request
2."EX Hair Remover" 100ml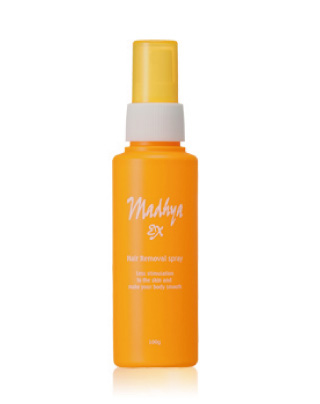 Purpose of use:
Orange fragrance hair removal spray.
Easy three-step hair removal. Spray on areas of concern, wait and wipe off.
Refreshing and moisturizing, includes hyaluronic acid and aloe extract!
How to use:
Lightly shake the product. Spray from about 3 cm away from the skin. Depending on the amout of hair wait 5-10 minutes, wipe off with cotton pad, gauze, etc.. or clean with a wet towel, or rinse with water.
Ingredients:
Calcium thioglycollate, Tetra 2 - ascorbyl hexyldecanoate, Soybean extract, Sodium hyaluronate (2), Scutellaria root extract Peach leaf extract, Thyme extract (2), Poria sclerotium extract, Aloe extract (2), Paeonia albiflora root extract, Sodium hydroxide, Polyoxyethylene cetyl ether, Liquid paraffin, Cetostearyl glucoside, Cetostearyl alcohol, Arachidyl glucoside, Arachidyl alcohol, Behenyl, Diethylenetriaminepentaacetic acid sodium solution 5, Xanthane gum, 1,3 - butylene glycol, Ethanol, 203 yellow, Orange fragrance.
Retail Price: \ 1944 JPY
FOB Price: upon request
3."Madhya Sweet Shabon Sugar Body Scrub" 200g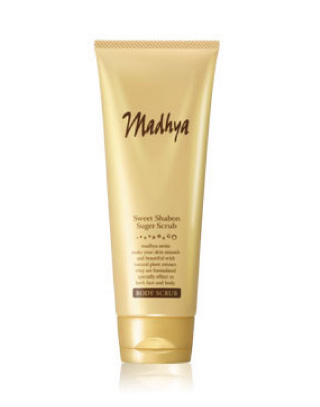 Purpose of use:
The unique combination of rare active ingredients makes this sugar scrub an excellent and delicate tool for body care. A great product for cleaning, moisuting and massaging the body.
How to use:
Put appropriate amount to the palm and apply to wet skin, massage in the areas of special concern. Rinse good. Can be used as a shower gel.
Ingredients:
Sucrose, Water, BG, Glycerin, Pentylene glycol, Honey, Royal jelly extract, Honey protein hydrolysis, Brown sugar extract, Ginger root extract, Soybean extract, Trehalose, Chamomile flower extract, Malic acid, Ceramide 1, Ceramide 3, Ceramide 6, Phytosphingosine, Cholesterol, Yuzu fruit extract, Leaf extract Matecha, Coffee Seed Extract, Hyaluronic acid Na, Acetyl hyaluronic acid Na, Hyaluronic acid hydrolysis, 2Na ascorbic acid sulfate, Taurine, Lysine HCl, Glutamic acid, Glycine, Leucine, Histidine HCl, Serine, Valine, Aspartic acid Na, Threonine, Alanine, Isoleucine, Allantoin, Phenylalanine, Arginine, Proline, Tyrosine, 2Na inosinic acid, 2Na guanylate, Persimmon tannin, Cetyl hydroxyethylcellulose, Lactic acid, Polyquaternium -61, Na lactate, K hydroxide, Na lauroyl lactic acid, PEG-50 hydrogenated castor oil, PEG-60 almond acid glyceryl, EDTA-2Na, Carbomer, Xanthane gum, Phenoxyethanol, Fragrance.
Retail Price: \ 1296 JPY
FOB Price: upon request