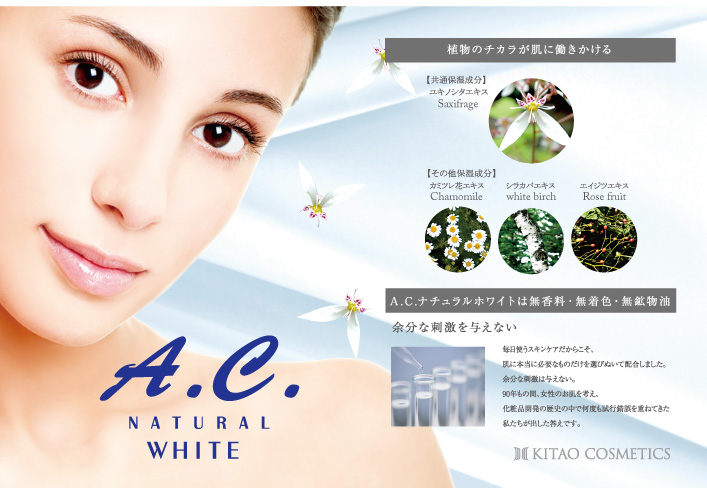 KITAO "A.C. Natural White" Series
One more amazing Japanese cosmetic series from Osaka-based maker Kitao.
Kitao Keshouhinbu Co., LTD. was founded in 1919, has a long successful history of designing and producing goods for Japanese cosmetics and makeup market.
A.C. Natural White line is a cosmetic series with distinct whitening and moisturizing effects.
All Kitao cosmetic series do not have artificial aroma, mineral oils and dyes.
---
Main Products
1."A.C. Natural White Peel Lotion" 100ml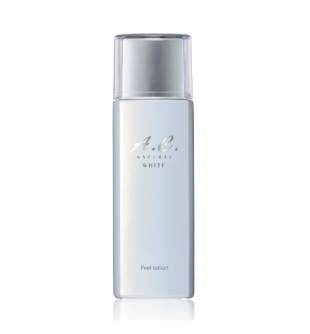 Purpose of use:
This is a new type of lotion that increases the permeability of the skin care products (like essence and packs) and removes dead skin cells. It has a skin treatment fruit extract that makes skin smooth and healthy.
*Active ingredients suit the skin condition: roots of licorice and 2K glycyrrhizin acid. Many more herbal folk medicine extracts are used: Saxifrage saxifragaceae extract, Panax ginseng extract, so Lotion has an anti-inflammatory and cooling effects, skin restoring effect, it promotes blood circulation and stimulates skin metabolism.
How to use:
After washing your face, take an appropriate amount on cotton pad and gently wipe your face. Recommended for use 1-2 times a week.
You do not need to rinse.
Ingredients:
Water, Ethanol, BG, (C12-14) Pareth-12, Dipotassium glycyrrhizate, K hydroxide, Saxifrage extract, Hawthorn extract, Jujube fruit extract, Grapefruit fruit extract, Apple extract, Lime juice, Orange juice, Lemon juice, Geranium robertianum extract, Grape juice fermentation liquid, Lactobacillus, Acetyl hexapeptide-8, Asian ginseng root extract, Coix Seed Extract, Polysorbate 80, Platinum, Malic acid, Lactic acid, Salicylic acid.
Retail Price: \ 4320 JPY
FOB Price: upon request
2."A.C. Natural White Gentle Mousse Face Wash" 200ml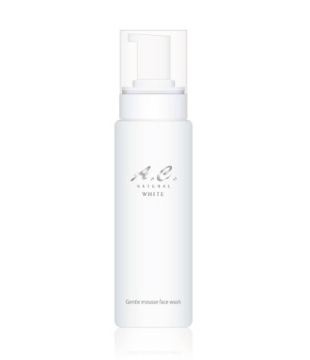 Purpose of use:
Foam consists of luxurious moisturizing ingredients such as plant extracts, that wash away excess oil and dirt from pores while keeping the skin moistured. This bubble type foam is best suits for a sensitive skin. No extra efforts, easy and speedy use. *Active ingredients: used in herbal folk medicine Saxifrage saxifragaceae extract, chamomile flower extract, tea extract and others.
How to use:
Gently wash your face putting the appropriate amount on the palm (2-3 pushes), so as to cover the face with foam. Use after cleansing.
Ingredients:
Water, Potassium cocoate, Sorbitol, Betaine, Cocamide DEA, Phenoxyethanol, Glycosyl trehalose, Hydrogenated starch hydrolyzate, Allantoin, HEDTA-3Na, PCA-Na, BG, Ethanol, Fruit extract polyantha, Honey, Black tea extract, Saxifrage extract, Rice bran extract, European white birch bark extract, Chamomile flower extract.
Retail Price: \ 1620 JPY
FOB Price: upon request
---
There might be changes in products line-up of the series, please feel free to inquire.